Whether you want to improve you diet or impress your friends with inspired cooking, this week is the answer. Vegetarian cookery need not be bland and boring if it is given an international touch and spices are used. The meals we will create together during this week will include recipes from India, Indonesia, the Middle East and the Caribbean in addition to dishes from all over Europe.
Vegetarian Cookery

with Kathrin Cooper

11-18 June 2011

£500


In the course of this week we will discuss all aspects of vegetarianism to do with health, economics, ethics and religion. In terms of global warming, it has been pointed out that the meat and dairy industry produces many times more greenhouse gases than cars. And consider this: An area of land the size of five football pitches will grow enough meat to feed two people, or maize to feed 10, or grain to feed 24, or soya to feed 61. In terms of health, meat and milk appear to be the principal causes of degenerative diseases - heart disease, strokes, some cancers, obesity - the diseases of affluence that devastate the health of people in the West and eventually kill most of them.

Since the logical conclusion of a meat-free diet is a vegan diet we will also look into vegan cookery, which is free of all animal products. The products we use will be locally sourced and organic as far as possible.



Schedule:
Days start with a short meditation period followed by breakfast. After breakfast we will spend an hour or so looking at theoretical issues - nutritional theory, the composition of meals, health aspects - and we will then prepare the main meal together as well as bake different types of bread, cakes and biscuits. The programme is kept flexible so that we can make use of sunny days for walks around the peninsula, which means that the main meal will either be in the early afternoon or in the evening.

Participants: The number of participants is limited to four to make sure everyone gets plenty of hands-on experience. In addition, we particularly welcome non-participating guests who will eat and provide us with feedback.
The charge for Eaters is £390 for the full week.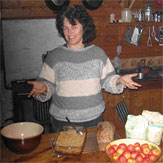 Kathrin has been cooking for guests at Shanti Griha since 2000. As a Buddhist she has always been a vegetarian with a strong interest in Asian cuisine. In recent years she has become more and more drawn to a vegan diet, mainly because of health concerns. Due to her keen interest in health issues Kathrin has been following the work of Lynne McTaggart for some time.
What Doctors Don't Tell You:


www.wddty.com